In the enchanting landscapes of Morocco, a centuries-old beauty secret thrives – Moroccan Argan oil. Renowned for its versatile benefits and nourishing properties, this liquid gold has a global reputation as a hair care elixir. From the bustling markets of Marrakech to the shelves of modern beauty boutiques, Moroccan Argan oil has captured the attention of hair enthusiasts seeking natural solutions for their tresses.
Debunking Myths about Moroccan Argan Oil
Myth: Overnight Transformation
One of the most persistent myths surrounding Moroccan Argan oil is the notion of an overnight transformation. While this oil possesses exceptional properties, it is not a magical potion that miraculously turns straw into silk by the dawn. True enhancement of hair's health and vibrancy requires consistent and patient application over time rather than a single night's touch.
Myth: Instant Repairs
In an era of instant gratification, believing that a few drops of Moroccan Argan oil can swiftly mend split ends and repair years of damage is tempting. While the oil's nourishing properties can contribute to healthier hair, it's important to approach it as a supportive element of a comprehensive hair care routine.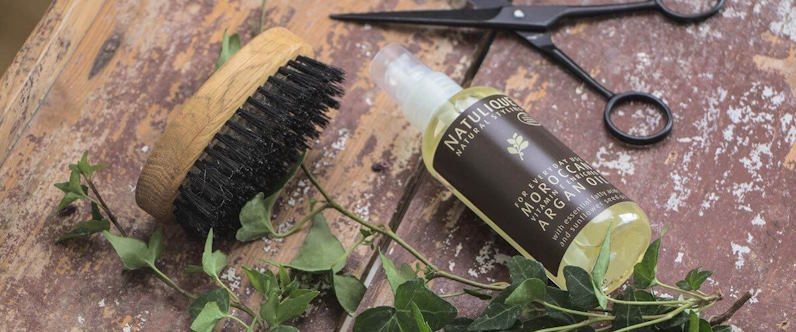 Myth: Miracle Hair Growth
While the oil can provide a conducive environment for healthy hair growth by nourishing the scalp and strands, it won't suddenly bestow Rapunzel-like tresses overnight. The growth journey remains a complex interplay of genetics, overall health, and consistent hair care practices.
What are the real benefits of Moroccan argan oil for hair?
First of all, Moroccan argan oil is a natural source of essential fatty acids, including omega-3 and omega-9, that work in harmony to moisturize and hydrate your hair deeply. It forms a protective barrier that locks in moisture, preventing dryness and brittleness. Moroccan Argan oil helps improve its elasticity by infusing your hair with vital nutrients. Additionally, Moroccan Argan oil's nutrients extend their nurturing influence to your scalp, creating an environment conducive to healthy hair growth.
Besides, this oil creates a protective shield, minimizing the impact of high temperatures and reducing the risk of heat-induced breakage.
Moroccan Argan oil offers versatile application methods to suit your hair care routine, whether as a leave-in conditioner, pre-shampoo treatment, or styling aid.