In the realm of hair care and restoration, one procedure has been making waves and gaining significant attention: scalp microneedling. With an increasing number of individuals seeking effective hair growth and rejuvenation solutions, scalp microneedling has emerged as a popular choice.
How does it work?
Scalp microneedling is a specialized procedure that promotes hair growth and improves overall scalp health. At its core, the technique harnesses the power of controlled micro-injuries to stimulate the body's natural healing processes.
A trained professional uses a handheld device with fine, sterile needles to create tiny punctures on the scalp's surface during the procedure. These micro-injuries are strategically placed across the treatment area, targeting specific regions where hair growth is desired. The process is performed precisely, ensuring that the micro-injuries are spaced evenly and at an appropriate depth.
Is it really efficient?
The concept behind scalp microneedling lies in the body's innate response to injury. As the scalp perceives these controlled micro-injuries, it triggers a cascade of cellular activities. Blood flow to the area increases, carrying essential nutrients and oxygen crucial for hair follicle health. Additionally, releasing growth factors and cytokines further stimulates the follicles, encouraging them to transition into the active growth phase.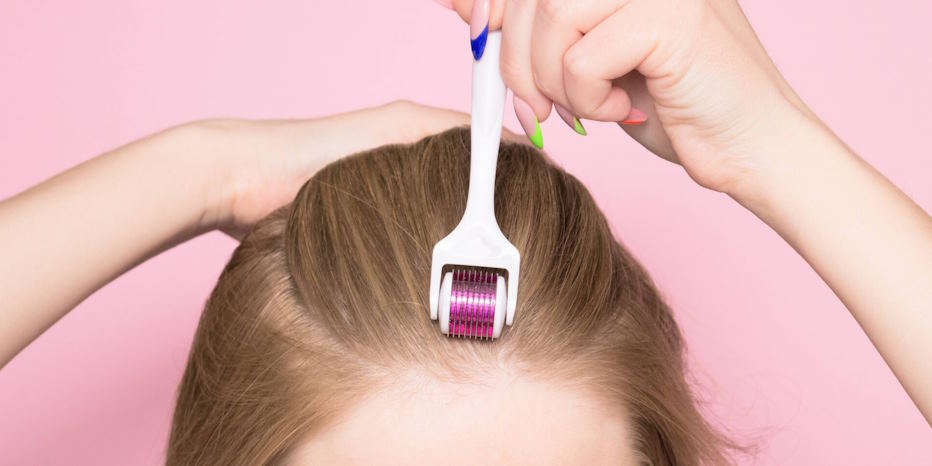 One of the remarkable aspects of scalp microneedling is its ability to enhance the absorption of topical treatments. Following the micro-injury process, the scalp becomes more receptive to various hair growth serums, oils, or post-procedure treatments. This heightened absorption amplifies the benefits of these products, allowing them to penetrate deeper into the scalp and nourish the follicles directly.
Over time, increased blood circulation, growth factor release, and enhanced nutrient delivery revitalize dormant hair follicles. As these follicles become active and start producing new hair strands, individuals often experience improvements in hair density, texture, and overall hair health.
How quickly can people see the result?
Results from scalp microneedling results vary, but changes typically begin within a few weeks to a few months. Initial improvements might include reduced scalp irritation and stronger-feeling hair. Around two to three months, increased hair density may become noticeable as revitalized follicles enter the growth phase.
Individual response varies due to health and age, so consult a professional for personalized expectations. Patience and consistent care yield the best outcomes.