Natural hair is not just a trend; it's a celebration of individuality, culture, and authenticity. We'll walk you through the intricacies of making the transition, from understanding the characteristics of relaxed and natural hair to tackling common challenges and building the confidence to own your unique beauty. So, if you're ready to embark on a journey of self-discovery, empowerment, and a newfound appreciation for your hair's natural beauty, let's dive into the world of transitioning from relaxed to natural hair.
Hair Care During Transition: Nurturing Your Natural Beauty
As you embark on the journey of transitioning from relaxed to natural hair, proper hair care becomes paramount to ensure a smooth and healthy transition. This phase is all about embracing your natural texture and learning to care for it in the best possible way. Let's delve into the essential aspects of caring for your hair during this transformative period.
Proper Hair Care Practices for Transitioning
During your transition, focus on gentle care. Use sulfate-free shampoos and moisturizing conditioners to maintain your hair's health. Limit the use of heat styling tools, as they can cause further damage. Detangle your hair carefully with a wide-tooth comb or your fingers, starting from the tips and working your way up.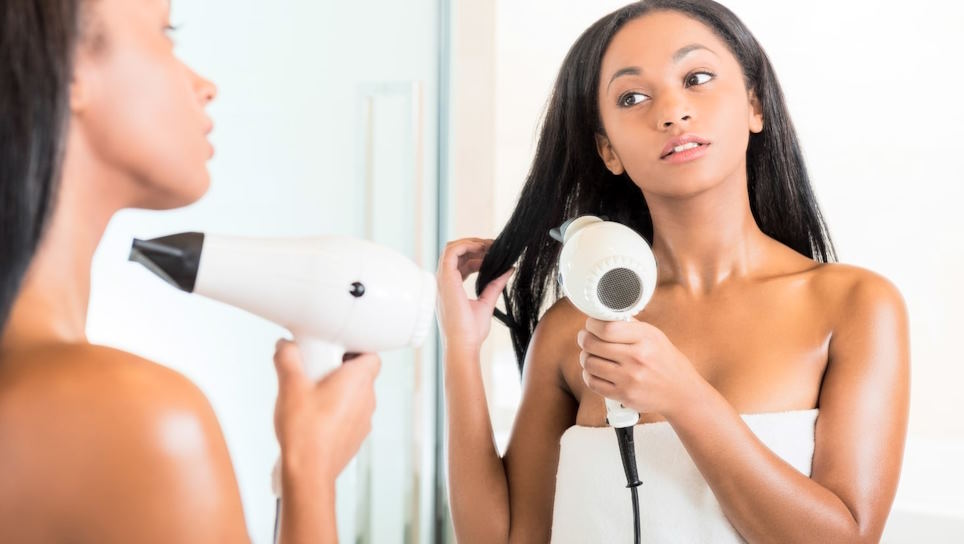 Essential Products and Tools
Invest in quality hair products designed for your hair type. Leave-in conditioners, oils, and natural hair serums can work wonders to keep your hair moisturized and manageable. A satin or silk pillowcase helps prevent breakage, and a microfiber towel minimizes frizz. Essential tools include a diffuser for natural hair-friendly drying and hair accessories like silk scrunchies to minimize hair stress.
Styling Options for Transitioning Hair
Read this article to discover how making natural hairstyles during the transition can become a fun and creative process. Experiment with twist-outs, braid-outs, or wash-and-go styles to showcase your natural texture. These styles can effectively blend your natural and relaxed hair, making the transition smoother.
Protective Styles to Consider
Protective styles such as braids, twists, and weaves can give your hair a break from daily manipulation and protect it from damage. Just be sure not to make these styles too tight, as that can lead to breakage.
The Big Chop vs. Transitioning Gradually: Which Path to Natural Hair is Right for You?
When it comes to transitioning from relaxed to natural hair, one of the most significant decisions you'll face is whether to go for "The Big Chop" or opt for a gradual transition. These two approaches offer different experiences and outcomes, and the choice between them largely depends on your personal preferences, comfort level, and the vision you have for your natural hair journey.
Explanation of "The Big Chop"
"The Big Chop," often abbreviated as TBC, is a bold and decisive step in which you cut off all your relaxed or chemically-treated hair, leaving you with a short, close-cropped natural hairdo. This approach signifies a clean break from your relaxed hair and is often seen as a fresh start.
Pros and Cons of "The Big Chop"
Pros:
Quick Transition: The Big Chop is the fastest way to embrace your natural texture, as you immediately have only natural hair.
No Split Ends: You eliminate any remaining damaged or relaxed ends, promoting healthier hair growth.
Confidence Boost: Many individuals find the TBC liberating and empowering, as it represents a commitment to their true selves.
Cons:
Drastic Change: The Big Chop can be emotionally challenging for some, as it involves a significant change in appearance.
Limited Styling Options: Short hair might limit your styling choices initially.
Gradual Transitioning Methods
Gradual transitioning involves allowing your natural hair to grow while gradually trimming away the relaxed ends over time. This method requires patience, but it allows you to retain some length and may be a more comfortable way to ease into your natural hair journey.